Now available for worldwide film festival & event screenings. To book a screening, please contact: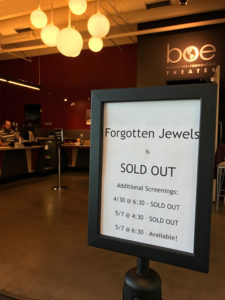 The National Center for Jewish Film
Waltham, MA
Attention: Lisa Rivo, NCJF Co-Director, lisarivo@brandeis.edu
www.jewishfilm.org  •  781.736.8600
SCREENINGS

March 23, 2022 – Filmmaker Q&A with special guest Marion Kreith
Cuban Research Institute, School of International and Public Affairs
Florida International University, Miami, Florida
December 12, 2021 – Filmmaker Q&A with special guest Marion Kreith
Temple Beth Shalom
Needham, Massachusetts
September 30, 2021 – Filmmaker Q&A with special guest Marion Kreith
Tulane University
New Orleans, Louisiana
December 5, 2020
East Europe International Film Festival
Warsaw, Poland
November 25, 2020
Festival di Cinema e Donne
Florence, Italy
July 26, 2020 – Filmmaker Q&A with special guest Marion Kreith
Sousa Mendes Foundation
Virtual Film & Discussion
April 19, 2020
Miami YomHashoah – Online
Miami, FL
February 24, 2020
Oseh Shalom
Laurel, MD
February 1, 2020, 5:00pm – Filmmaker Q&A
Viva Cuba/Intercambio Uniting Communities
4735 Walnut St, Ste B, Boulder, Colorado 80301
February 12, 2020
Brandeis University National Committee Desert Chapter
Tolerance Education Center, Rancho Mirage, CA
January 5, 2020, 10:30am – Q&A with Andrea Bakalar
SLO Jewish Film Festival
San Luis Obsipo, CA
It was a wonderful weekend and in particular your film received much praise. – Muara Johnston, Festival Director
January 5, 2020 – with speaker Rabbi Micah Greenstein
Jewish Historical Society of Memphis and the Mid-South
Memphis, TN
We showed the film at our program about the Jews of Cuba last Sunday afternoon to a crowd of over 100. It was so well received and we received so many compliments on the film. – Lorraine Wolf, President of Jewish Historical Society of Memphis and the Mid-South
November 10, 2019
Mount Sinai Jewish Center
Washington Heights, NYC
September 4-5, 2019
Sunrise Film Festival
Pictou, Nova Scotia
September 15, 2019
Presented by Nederland Library & Viva Cuba
80 Big Springs Dr, Suite 202
Nederland, CO
September 15, 2019
Congregation Beth Israel
Bangor, ME 04401
September 16, 2019
Jewish Film Festival of Western Connecticut 
Southbury, CT
August 4, 2019
Houston Congregation for Reform Judaism
Houston, TX
August 8, 2019
Temple Adas Israel
Sag Harbor, NY
August 8, 2019
The White Theater/JCC of Greater Kansas City
Overland Park, KS
Presented by The Midwest Center for Holocaust Education
June 23, 2019, 2:00pm
Maine Jewish Museum
Presented by Linda J. Hirsch
Portland, ME
June 13, 2019 – Filmmaker Q&A
Cuban Heritage Collection
University of Miami Cosford Cinema
Coral Gables, FL
June 8, 2019, 3:15pm – Filmmaker Q&A
BZN International Film Festival
Bozeman, MT
May 7, 2019 – Filmmaker Q&A
Colorado Academy
Denver, CO
April 4, 2019
Jewish Federation of Durham-Chapel Hill
Durham, NC
February 14, 2019 – Filmmaker Q&A
St. Petersburg Conference on World Affairs
St. Petersburg, FL
February 10, 2019
Congregation Kehillath Israel
Brookline, MA
January 31, 2019
East Brunswick Jewish Center
East Brunswick, NJ
January 27, 2019 – Filmmaker Q&A
BELGIUM PREMIERE
International Holocaust Remembrance Day
UGC Cinemas
Antwerp, Belgium
January 13, 2019
National Association of Jewish Child Holocaust Survivors
New York, NY
December 20, 2018
JCC Houston
Houston, TX
November 25, 2018, 5 & 7pm – Filmmaker Q&A
DVD Release Party, 6:00 – 6:45pm in the Lobby
Boedecker Theater, Dairy Center for the Arts
2590 Walnut St., Boulder, CO
October 3, 2018
United States Holocaust Memorial Museum
Private Screening in celebration of Hispanic Heritage Month
Washington, D.C.
September 22 & 23, 2018
Schenectady Jewish Film Festival
Niskayuna, NY
September 1, 2018
Adat Shalom Synagogue
Farmington Hills, MI
July 29, 2018, 2:00pm
Yiddish Book Center
Amherst, MA
May 13, 2018, 7:30pm
Ann Arbor Jewish Film Festival – Guests Aron Kaufman and Ruth Behar, PhD
Michigan Theater, Ann Arbor, MI
May 16, 2018, 12:30pm
JCC Metro West – New Jersey Jewish Film Festival
West Orange, NJ
May 3, 2018, 6:30pm (Spanish Subtitled) – Filmmaker Q&A
May 5, 2018, 6:10pm – Filmmaker Q&A
Washington Jewish Film Festival
Washington, D.C.
May 9, 2018, 5pm
National Center for Jewish Film– Filmmaker Q&A
Waltham, Massachusetts
April 8, 2018
Center for Latin American and Caribbean Studies – Filmmaker Q&A via Skype
University of Wisconsin, Milwaukee, WI
April 6, 2018
Heska Amuna Synagogue
Knoxville, TN
March 16-22, 2018 (Nine Screenings)
Miami Beach Cinemateque
Miami Beach, FL
March 18, 2018, 3:30pm
Seattle Jewish Film Festival – Filmmaker Q&A
Seattle, WA
Heartfelt thank you to the both of you for your participation in our festival. Everyone from our upper management to the patrons who attended talked about the wonderful energy that was felt in the room that day. It was truly a privilege for me to have witnessed such a special program, and one that I will remember for a long time.
– Lori Ceyhun, Program Manager, Seattle Jewish Film Festival
March 19 & 20, 2018
Laemmle Theaters– Filmmaker Q&A
Los Angeles, CA
March 15, 2018
Cherry Hill Jewish Film Festival
Cherry Hill, NJ
March 10, 11, 17, & 18, 2018
Chicago Jewish Film Festival
Chicago, IL
March 8, 2018, 3pm
University of California, Rancho Mirage – Filmmaker Q&A via Skype
Osher Lifelong Learning Institute
Palm Springs, CA
It was a great turn out, and the feedback from our attendees was nothing but great reviews.
Ivonne Moreno, Events Manager, University of California Riverside
March 8, 2018
Nassau County Public Library/Amelia Island Genealogical Society
Fernandina Beach, FL
February 18, 2018
Denver Jewish Film Festival – Filmmaker Q&A
JCC Denver, Denver, CO
February 15, 2018, 7:00pm
American Jewish Historical Society – Filmmaker Q&A
New York, NY
What an extraordinarily successful program!
Shirly Bahar, PhD, Director of Cultural and Academic Programs, American Jewish Historical Society
February 11, 2018
Twin Cities Jewish Film Festival – Filmmaker Q&A via Skype
Minneapolis, MN
February 3 & 4, 2018
Atlanta Jewish Film Festival
Atlanta, GA
January 25, 2018
Savannah Jewish Film Festival
Savannah, GA
January 20, 2018
Congregation Beth David
Narragansett, RI
January 17 & 18, 2018 – Filmmaker Q&A
Miami Jewish Film Festival
Miami, FL
We had such a great time having you both here in Miami, sharing your movie with our audience!
Judith Vigil, Festival Manager, Miami Jewish Film Festival
January 13, 2018, 3:00, 7:00pm
University of California, Riverside – Filmmaker Q&A via Skype
Osher Lifelong Learning Institute
Riverside, CA
December 12, 2017
Festival Internacional Del Nuevo Cine Latinoamericano – Filmmaker Q&A 
Havana, Cuba
November 25, 2017
Jewish Center of Atlantic Beach
Atlantic Beach, NY
November 29, 2017
Frasier Meadows Retirement Community – Filmmaker Q&A
Boulder, CO
November 9-11, 2017
Rocky Mountain Women's Film Festival – Filmmaker Q&A
Colorado Springs, CO
November 5, 2017
Beth Tzedec Calgary Jewish Film Festival
Calgary, AB Canada
October 22, 2017, 2:00pm
Black Bear Film Festival
Milford, PA
The film was so well received and we are so thrilled we were able to screen it at the Black Bear Film Festival.  The audience was extremely receptive!
– Karen Kelly, Salon Director, Black Bear Film Festival
Special Preview of Selected Clips  
September 15, 2017
Heska Amuna Synagogue
3811 Kingston Pike, Knoxville, TN
Work in Progress Screening with Filmmakers
July 16, 2017, 4:30pm (SOLD OUT)
Boedecker Theater, Dairy Center for the Arts
2590 Walnut St., Boulder, CO
Work in Progress Screening with Lilliane Shuman
June 2017
Tolerance Education Center
Ranco Mirage, CA
Work in Progress Screening
June 2017
Haifa Cinemateque
Haifa, Israel
Work in Progress Screenings with Filmmakers
Spring 2017 (*Five Sold Out Screenings)
Boedecker Theater, Dairy Center for the Arts
Boulder, CO
Work in Progress Screening with Filmmakers
March 2017 (SOLD OUT)
Boulder Jewish Film Festival
Gordon Gamm Theater, Dairy Center for the Arts
Boulder, Colorado
Work in Progress Screening with Filmmakers
February 2017 (SOLD OUT)
Farthest North Jewish Film Festival
Fairbanks, Alaska