We would like to recognize our fiscal sponsor, The National Center for Jewish Film, and those who continue to donate to this project. Your financial support helps greatly to offset our self-funded production costs, and also to assist in presenting the film to audiences far and wide.
Our deepest thanks to:

AE Ventures Foundation, NYC
JDC Archives Documentary Film Grant
Dan Ely
Hinda Hoffman
Shirley Cheng
Barbara Steinmetz
Heather Hans
Katherine Johannes
Kin and Emily Shuman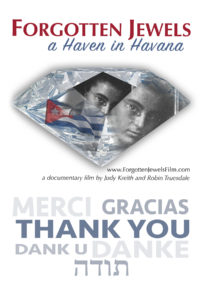 Stephen Sargent
Eva Ortiz
Sandra Neves
Kurt Kreith
Marion Kreith
Rabbi Tirzah Firestone
Joshua Grosbard
Karen Baker
Len Barron
Kip and Maria Shuman
Jan Kreider
Renee Backlund
Shireen Malik
Margi Morse
Cheryl Yarusso
Richard and Ronnie Grosbard – In memory of Jack Grosbard and his parents, Morris and Rose Grosbard and his brother, Ulu Grosbard who were in Cuba with him during World War II.
Lilliane Shuman
Lindy, Alan and Larry Frolich
Daisy Saragoussi
Mona Carp
Meagan Murphy
Bev Snyder
Joe Lanzoni
T.R. and Claudia Minton
Dick and Jo Scott
Abraham Losice
Willie Fischler
Marian and William Safran
Glenn Webb
Linda Hirsch
Online donations can be made here: NCJF.
Your tax-deductible gift makes it possible for us to share this important and compelling story! Gifts over $250 will receive a letter for tax purposes.

DONATE BY CHECK
Send your contribution by check made out to "The National Center for Jewish Film".
Include "Cuba's Forgotten Jewels" in the memo line.
Send to:
The National Center for Jewish Film
Brandeis University, Lown 102 MS053
Waltham, MA 02454
DONATE BY PHONE
Call 781-736-8600 Monday through Friday from 9am-5pm EST with your Visa or Mastercard.